AgileSoCal Monthly Meeting - Wednesday, October 18th 6:00 PM
Agile Leadership for Self-Managing Teams – Understanding the "Power" of "Influence" with Kate Megaw
When: Wednesday, October 18th
Networking and food, 6:00 PM.
Activities start, 6:30 PM.

***** Always free, but YOU MUST RSVP at https://www.meetup.com/Agile-SoCal/ *****
What would your team say about your legacy? Did you lead with a legacy of power and fear or did you influence your team to do their best and grow? This session will look at the transition in leadership style that needs to happen so we have effective Agile Leadership for Self-Managing Teams.
Will your team happily jump through hoops for you? Do you have enough influence to encourage them to succeed, without telling them what to do? This workshop session will explore the differences between these two styles of leadership and review your current leadership style.
Your Presenter: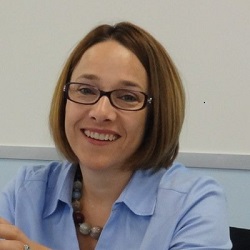 Kate Megaw, CST, PMP, CAL is the President of the Braintrust Consulting Group where she specializes in working with executives and C-level professionals as well as serving as an Agile Coach and Certified Scrum Trainer (CST®). Kate is a dynamic Project Management Professional with more than 15 years' experience in successfully planning, directing, tracking, and managing complex projects. Before co-founding The Braintrust Consulting Group, Kate worked as a project manager for the global leader in Corporate Actions automation. Now she uses her years of experience to guide clients through the transition from a waterfall to Agile delivery model. Kate is client-focused with finely honed communication and presentation abilities, complemented by strong planning, organizational and people management skills. Kate is a motivator and encourager, and is happiest when she breaks through to a client and leads them to the 'aha' moment. Before moving to the United States, Kate received her bachelor's degree in information management from the Queen's University of Belfast in Northern Ireland.

Where: The Capital Group Companies
6455 Irvine Center Drive (Yosemite Building, 1st floor)
Irvine, CA 92618

Exit the 5 or 405 at Sand Canyon.
From the 5, go south to Irvine Center and turn right.
From the 405, go north to Irvine Center and turn left.
Take the first right into the main parking lot at Capital Group.
Park (no permit needed), go to the main entrance, look for the signs.

Thanks to Capital Group for the meeting facilities.
Thanks to VersionOne for food and free agile stuff.
Thanks to Mike Cohn for agile e-courses, agile books and stuff.
Thanks to JetBrains for free tool licenses.
Thanks to Zensar for educational sponsorship.
Thanks to Agile Alliance for hosting our Meetup.

To be eligible for the drawing for free books and agile stuff YOU MUST RSVP to https://www.meetup.com/Agile-SoCal/ 24 hours prior to the meeting and be present to win.

AgileSoCal is your community for all things agile. Find us:
On our website at www.agilesocal.com (You are here!)
On Meetup at "Agile-SoCal"
On LinkedIn at "AgileSoCal"
On Twitter @AgileSoCal
---
Thanks to our ongoing sponsors:
---
2017 AgileSoCal Meeting Calendar
Meetings are usually held on the third Wednesday of each month. But not always, and dates may change, so watch for the announcements.
January 25, 2017 - Outputs versus Outcomes with Ben Rodilitz
February 15 - no meeting
March 15 - Agile Coaching with Brett Palmer
April 12 - Agile Thinking with Phyllis Marbach (Note: this is the 2nd Wednesday!)
May 17 - The Agile Business Organization with Keith Montgomery
June 14 - Actionable Agile Metrics for Predictability with Daniel Vacanti (Note: this is the 2nd Wednesday!)
July 19 - Agile, Complexity and the Cynefin Lego Game with Vic Bonacci
August 16 - Why Bother Estimating? with Dave Moore
September 20 - Group Glue with Jeff Cook
October 18 - Agile Leadership for Self-Managing Teams with Kate Megaw
November 15 - Team Agility with Al Shalloway
December - no meeting, Happy Holidays!

All meeting start with food & networking at 6:00 PM, presentation starts at 6:30 PM, raffle follows the presentation.
Would you like to speak at AgileSoCal? Or do you know someone you'd like to see? Email us at agilesocal@gmail.com
---
Past Meetings & Events
Click here for a full history of all AgileSoCal meetings.
Here's a sample from past AgileSoCal meetings. Our meetings feature experienced agilistas and cutting-edge topics, and are highly interactive and engaging. Come join us at a future meeting!


August 2016 - Managing for Happiness - Jurgen Appelo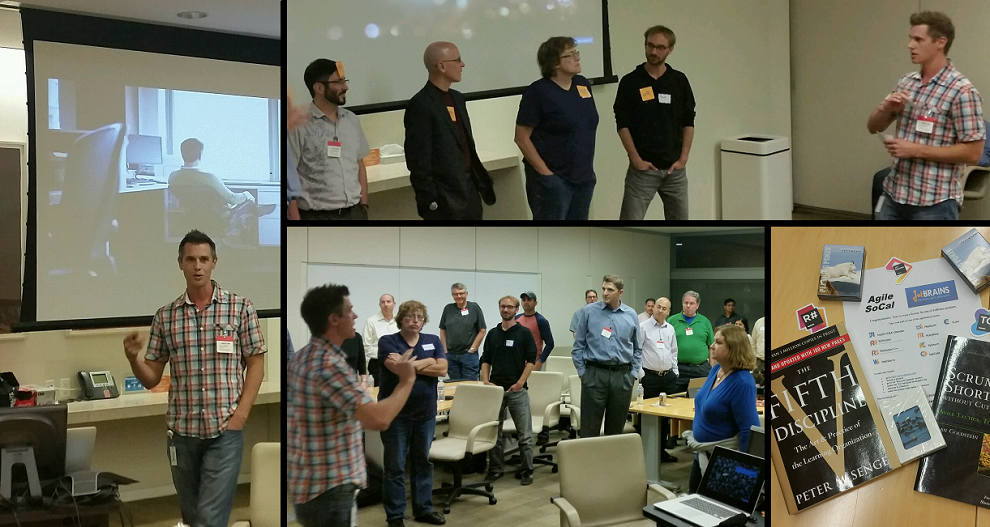 October 2016 - Agile, Systems, and the Deception of Training - Zach Bonaker
Click here for a full history of all AgileSoCal meetings.
---
Upcoming Agile Events Calendar
So Cal Local Agile Events Calendar
Monday, October 23, 6:30 pm
CodeLab: Pair Programming + Open Source
Location: Fullerton
More info: https://www.meetup.com/Orange-Countys-Creative-CoWorking-Downtown-Fullerton/

Tuesday, October 24, 6:00 pm
Agile Drink Up
Location: Huntington Beach
More info: https://www.meetup.com/Agile-Drink-Up/
Tuesday, October 24, 6:30 pm
Agile Coaching Exchange
Location: TBA
More info: http://www.meetup.com/ACE-Agile-Coaching-Exchange-SoCal/
Wednesday, October 25, 7:00 pm
CodeCraft() - Open Spaces Micro Conference
Location: Westlake Village
More info: https://www.meetup.com/codecraftgroup/
Wednesday, November 1, 8:30 - 4:30pm
One Day event with Al Shalloway
Location: Irvine, CA
More info: http://www.netobjectives.com/

Monday, November 6, 6:00 pm
Agile Coffee Happy Hour
Location: San Diego
More info: https://www.meetup.com/Agile-Coffee-San-Diego/

Tuesday, November 14, 6:00 pm
Lean Coffee
Location: Tustin
More info: https://www.meetup.com/agile-coffee

Tuesday, November 14, 7:00 pm
Extreme Programming Roundtable
Location: Santa Monica
More info: https://www.meetup.com/xp-los-angeles/

Tuesday, November 14, 6:00 pm
Scrum and Wine
Location: Long Beach
More info: https://www.eventbrite.com/

Wednesday, November 15, 6:00 pm
Agile/Scrum LA
Location: El Segundo
More info: https://www.meetup.com/Los-Angeles-Scrum-Meetup/

Tuesday, November 28, 6:30 pm
Agile Coaching Exchange
Location: TBA
More info: http://www.meetup.com/ACE-Agile-Coaching-Exchange-SoCal/
Wednesday, November 29, 7:00 pm
CodeCraft() - Open Spaces Micro Conference
Location: Westlake Village
More info: https://www.meetup.com/codecraftgroup/
Monday, December 4, 6:00 pm
Lean Coffee
Location: Tustin
More info: https://www.meetup.com/agile-coffee

Also watch for California Agile Meetups, OC Product Managers, PDMA, PMI OC & LA, SCQAA-OC, Java/.NET user groups, LA Agile Meetup & other MeetUps, etc. to be announced
Regional & National Agile Events Calendar
October 27
SCNA - Software Craftsmanship North America
Location: Los Angeles, CA
More info: https://scna.softwarecraftsmanship.org/
November 14
Agile Product Management Symposium
Location: Anaheim, CA
More info: https://www.truenorthconsortium.com/agile-product-management-symposium
Use discount code APMSOCAL

November 18
Global Day of Code Retreat
Location: worldwide - local site TBA
More info: http://gdcr.coderetreat.org/
February 5-7, 2018
Agile Open Northwest
Location: Seattle, WA
More info: http://www.agileopennorthwest.org/
February 26-27
Lean Agile US
Location: Ft Lauderdale, FL
More info: http://leanagileus.com/
April 30 - May 2
deliver:Agile
Location: Austin, TX
More info: https://www.agilealliance.org/
June 3 - 8
Agile Dev West
Location: Las Vegas, NV
More info: https://adcwest.techwell.com
August 6-10
Agile 2018
Location: San Diego, CA
More info: https://www.agilealliance.org/agile2018/